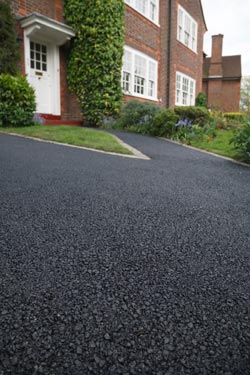 A brand new asphalt driveway can do wonders for the curb appeal of your home, not to mention its value. Asphalt gets its jet black color from the cement that acts as the glue that holds the various ingredients together. Over time, however, asphalt can suffer the negative effects of oxidation from exposure to the elements and begin to fade, become brittle, and crack. Once cracks begin to appear, your driveway is prone to a host of other problems that can become progressively worse, costly to repair and dangerous for vehicles to drive on. Fortunately, Nonnemaker Asphalt Seal Coating LLC in Ohio has a solution.
Sealcoating protects your driveway asphalt from the environmental stressors and wear and tear that lead to oxidation and cracking. Research has even shown that proper maintenance, including sealcoating, can as much as double the life of your driveway! Driveway asphalt sealcoating and repair is an essential part of the maintenance of your driveway and an important way to protect the investment you've made in your home and property. While every driveway is different and costs can vary, the team at Nonnemaker Asphalt Seal Coating LLC can provide a free estimate on your driveway sealcoating project. With over 50 years of combined experience in driveway asphalt sealcoating and repair, you can count on the highest quality work and the most competitive prices around.
Nonnemaker Asphalt Seal Coating LLC is pleased to provide the highest quality driveway asphalt sealcoating and repair to our customers in the state of Ohio. We've been the leading asphalt contractors in the area since 2001, and have established a reputation for quality workmanship and unparalleled service over the years. When your driveway asphalt is showing signs of fading or damage, don't wait. Call Nonnemaker Asphalt Seal Coating LLC for a free estimate on driveway asphalt sealcoating and repair.