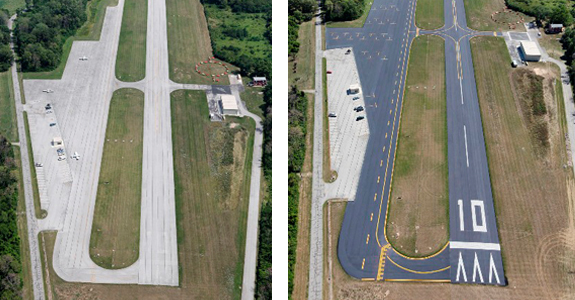 Asphalt parking lots are an important portion of the property's value. We provide our customers with a free periodic inspection of their parking surfaces and assist you in establishing a schedule and budget for necessary pavement services and repairs.
Parking Lot Line Painting
Our proven technique and quality sealcoat material provide outstanding resistance of water seepage, petroleum spills, oxidation from the sun, and other damaging elements.
Curb Appeal
Customers' and tenants' first impression of your property is the parking lot. Sealcoating with our company ensures a positive first impression by enhancing the appearance of your property.
Save Money
An independent study, by the Pavement Coatings Technology Center at the University of Nevada at Reno, shows conclusively that maintaining asphalt with sealcoat every three years saves an average of $152,500 for a typical commercial parking lot over 15 years old.
This equates to a 48% savings over the life of an unmaintained parking lot. With oil prices considerably higher and less stable today, the savings will be even higher.
Crack Filling and Asphalt Patching Service
Failed areas or liability issues on your parking lots and roadways are justifiably important concerns. But the presence of these issues does not mean that repaving or other major scopes of work are necessary. Our proven technique of patching asphalt allows for of repair these particular areas in a cost-effective way.
The Process
The broken, failed, or liability areas are identified as issues that should be corrected. The areas are cut square with a jackhammer or sawcut (depending on the region or by request) and excavated to the aggregate subbase. Asphalt is installed at an average compact depth of 3″. Finally, edges are sealed with asphalt emulsion to improve bonding with the surrounding existing asphalt.
In situations with a large amount of patching in one parking lot or roadway, asphalt milling (or scarifying) options are also available to take advantage of specialized milling equipment, which would cut down on excavation time.
Line Painting Services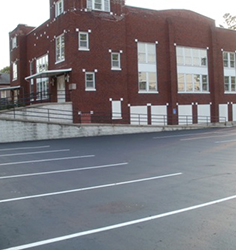 Pavement markings help control vehicle and pedestrian traffic, while also ensuring maximized parking for tenants, customers, and employees. Arrows, crosswalks, stenciling, and other markings combine with parking stalls to create an efficient parking lot and roadway for your property. Custom stencils are a great way to enhance your brand.
ADA Compliance
Access to your property and compliance with regulations (Federal, state, and municipal) is an imperative for all facilities. ADA compliance thru pavement markings and signage not only ensures avoiding fines and penalties but also ensures easy access to your property.
The Finishing Touch
Repainting your parking lot makes your property look newer and well-maintained. Striping and painting enhances your curb appeal, adding to your customer or tenant satisfaction. This is truly the finishing touch as well as an essential and inexpensive way to maintain the value of your property.
Residential Services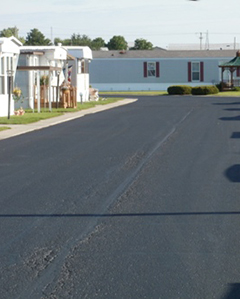 Our Company has been providing the most comprehensive and professional asphalt maintenance services available. Because all of our work is done by our in-house staff, we can fit your schedule and seal your driveway when it's convenient for you.
Protect Your Investment – And Your Family
Your home is your most treasured investment. Your driveway is included in the value of your property. Just like maintaining your home by painting periodically and caring for your landscaping, your driveway deserves the same attention — especially when your children will be playing on that surface. Well maintained asphalt is resistant to cracking and is safer for children.
We apply a latex-based coal tar pitch emulsion fortified with a latex rubber additive and sand. It has outstanding resistance to water seepage, petroleum spills, oxidation from sun and other damaging elements.
Save Money
Sealcoating will greatly extend the life of your driveway. Plus, a driveway maintained by our Company will only need to be paved half as often as an untreated driveway! A study proved that maintaining pavement with sealcoat saves up to 48% over the life of the driveway.
Increase Your Property Value
Residential Driveway after Sealcoating After Sealcoating Sealcoating beautifies and enhances your landscaping, thereby increasing the value of your property. We keep your property looking like new while protecting it.
Highest Quality Sealant Available
We use government grade coal tar emulsion based sealer, which exceeds RP-355e specifications and contains 4 to 6 pounds of silica sand per gallon to ensure a very durable longer lasting application.
Our sealcoat seals out the damaging elements of weather and chemicals and keeps the vital oils and plasticizers locked in the pavement to keep them flexible and functional. This way your property and investment are protected.